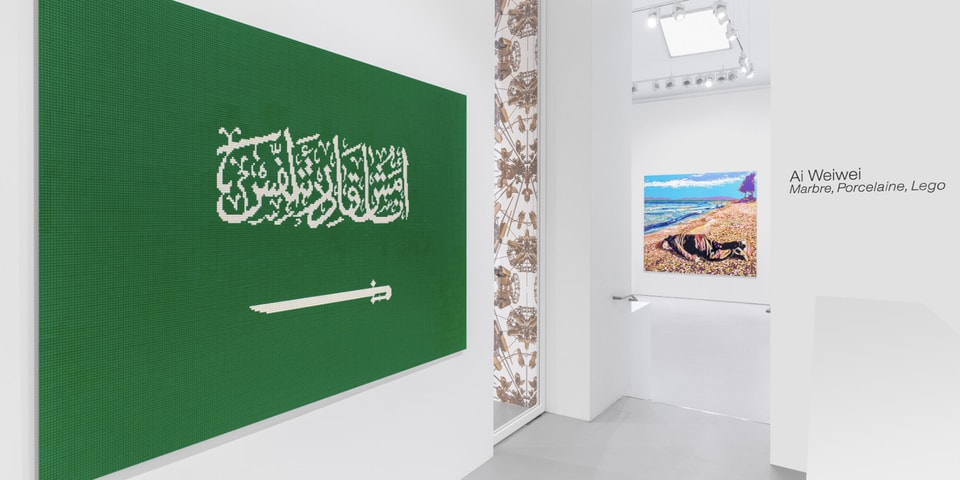 Ai Weiwei has unveiled his latest exhibition, titled "Marbre, Porcelaine, LEGO" at Paris' Galerie Max Hetzler.
The solo show is the second with Max Hetzler and presents a wide array of international iconography which reflects the Chinese conceptual artists stance on political activism. Traverse the room and you'll find an altered version of the Saudi Arabian flag, which alludes to the murder of journalist Jamal Kashoggi, to a display of rendered LEGO-bricks, which reference the German rescue vessel SeaWatch.
All of these items demonstrate Weiwei's thorough knowledge behind the history of artifacts — objects that he carefully instructs his craftspeople to recreate using the same techniques of yesteryear. One such example can be found in the Chinese porcelain vases on view, which are made by the crafts people of Jingdezhen, Jiangxi Province — the longtime center of porcelain production in China. Despite appearing unassuming at first glance, the blue-and-white vases are imbued with six motifs that detail the refugee experience: War, Ruins, Journey, Crossing the Sea, Refugee Camps, Demonstrations.
"Marbre, Porcelaine, Lego" is on view until August 7. Be sure to also check out Ai Weiwei's latest augmented reality artworks.
Galerie Max Hetzler
57 Rue du Temple
Paris, France
75004