From hiking along precipitous escarpments to exploring ancient caves, we share the best things to do in Gauja National Park, Latvia
Over half of Latvia is covered in forest with northern Latvia and particularly the Gauja Valley home to some of the country's most stunning arboreal scenes. I spent a few days exploring Gauja National Park, the country's oldest protected area, and found an adventure playground ideal for outdoor enthusiasts.
Established in 1973 with the purpose of protecting the nation's most cherished natural landscape, Gauja National Park encompasses swathes of pristine forested wilderness disturbed only by the lethargic flow of the Gauja River and the ancient sandstone cliffs lining its banks.
As well as picturesque scenery, the park offers a range of engaging activities throughout the year. Hiking, cycling and camping are the most popular activities, but there are also options to go canoeing, rafting, caving and even bungy jumping as well as scores of cultural and historical monuments to visit. Below, I take a look at the best things to do in Gauja National Park.
1. Hike nature trails
I managed to squeeze in two short hikes during my stay in Gauja, but there are scores of nature trails available. With riverside walks, clifftop scrambles, forest paths and even geology trails to choose from, there's something to suit every ability level.
Popular trails include the 30km Sigulda-Līgatne Trail which follows the Gauja River between the two towns and passes the picturesque Devil's Rock. Another great option is the 21km Amata Trail near Zvartes Rock, the scenic sandstone outcrops overlooking the Amata River.
2. E-BIKe the Gauja Valley
While I consider myself a seasoned hiker, I have only limited experience cycling off-road. A few years ago, I completed England's coast-to-coast cycle route, a 221km jaunt across northern England. I can't say the experience really won me over. I found the uphill sections punishing and utterly deflating.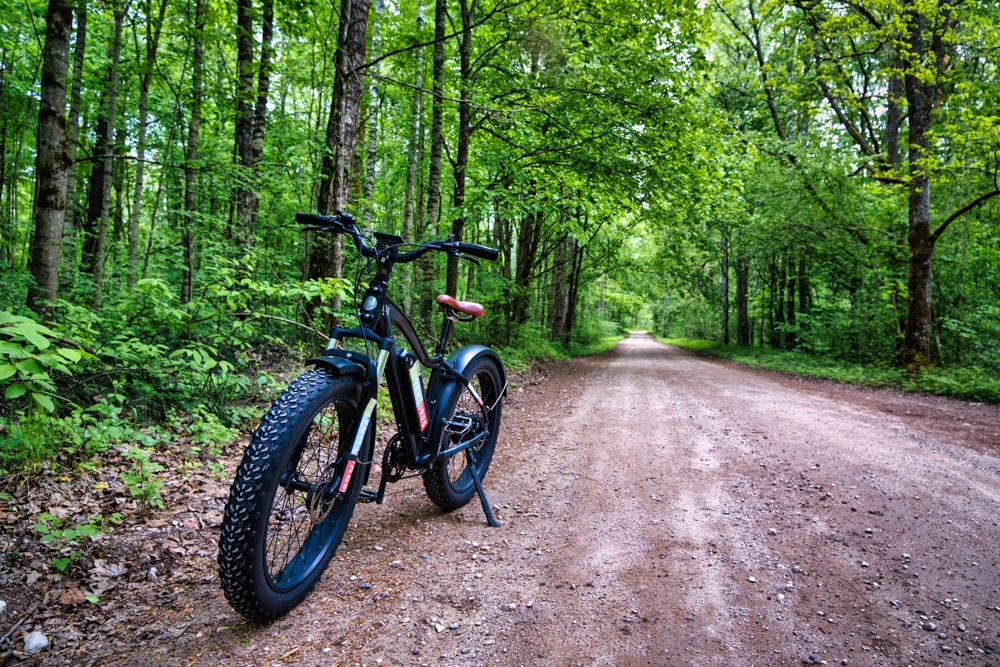 Atlas & Boots
Some scenes from my smart bike ride
As such, I jumped at the chance to hire a smart bike to tour the tracks and trails around Sigulda in the heart of Gauja National Park. A power-assisted smart bike (or e-bike) allows me to actually enjoy (rather than endure) riding uphill and lets me hurtle back down at breakneck speeds. Rather than having to pause regularly to get my breath back before I can appreciate the scenery, I'm able to pedal along while enjoying the sights at the same time.
There are several permutations on the route around the river valley adjacent to Sigulda. I opted for an 18km tour that takes in riverside and forest trails while visiting several points of interest along the way.
3. Visit Turaida castle
Turaida Castle (Turaidas Pils), meaning 'God's Garden' in ancient Livonian, is located just a few minutes north of Sigulda. It is Latvia's most visited museum but maintains an air of calm.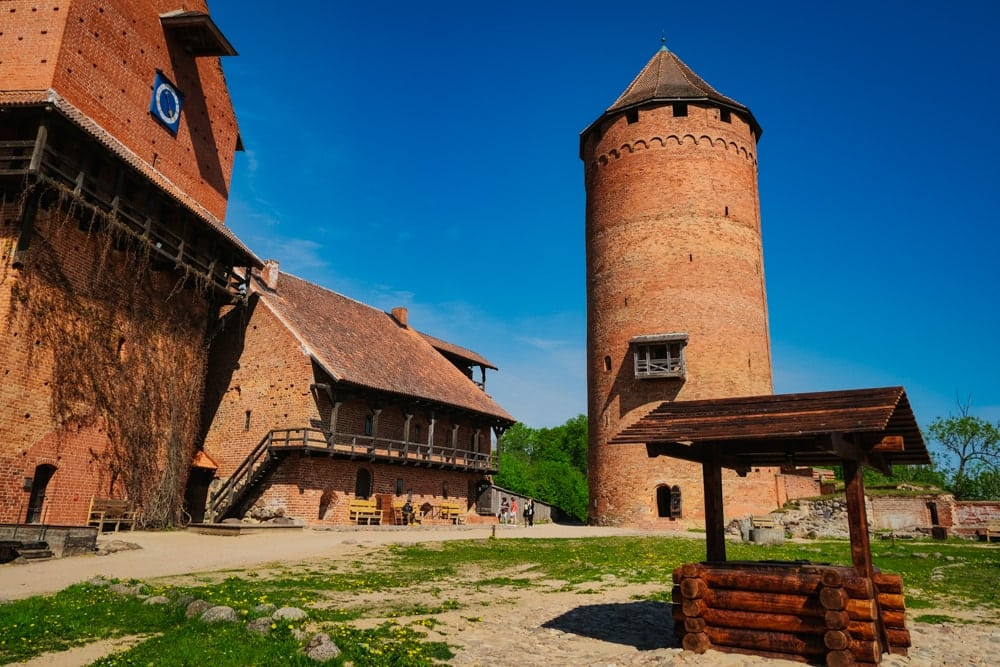 The 11th-century red-brick castle has a tall cylindrical tower as its centrepiece surrounded by a medley of outer buildings that have been transformed into galleries and exhibitions including a smith house, wooden church and a Folk Song Garden featuring sculptures of Latvian heroes. There are also landscaped gardens, meadows of wildflowers and patches of woodland, all with leafy trails to mooch around.
4. Bungy jump
While you won't catch me doing this (it's more up Kia's street), there is a bungy jump available in Sigulda for those looking for the ultimate adrenalin rush. Running since 1992, the Sigulda Bungy has seen over 100,000 people take the leap.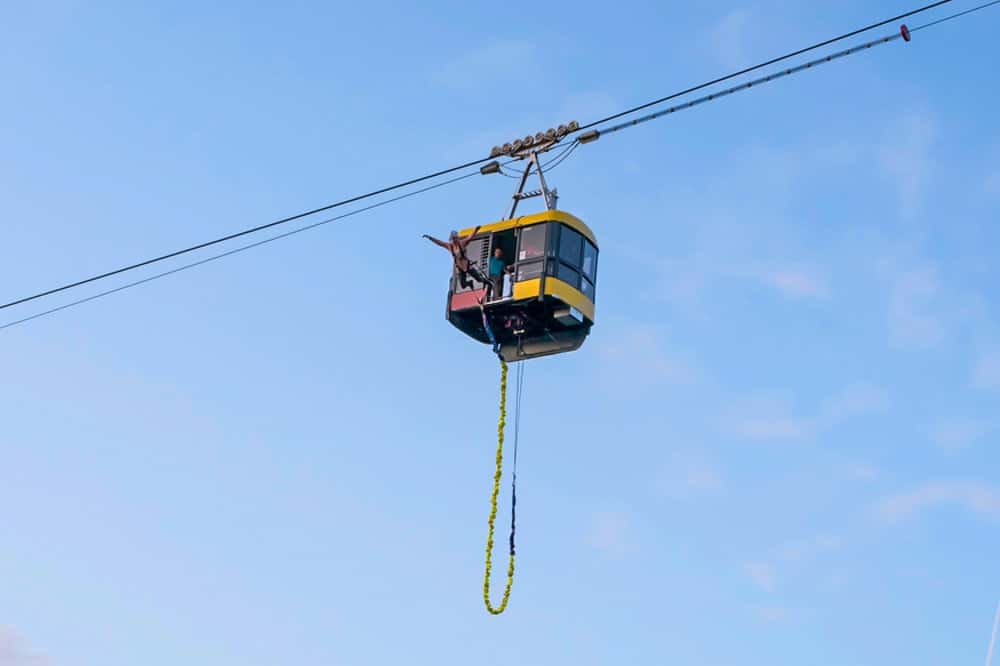 The jump takes place from a cable car suspended 43m above the Gauja River. The jumping season runs from April to August with single and tandem jumps and video packages available.
5. Canoe the Gauja River
With the entire national park situated around the Gauja River, it's only right to spend some time on its waters. Abutted by rocky outcrops, cliffs and caves, as well as the occasional sandy beach, the Gauja River has plenty of spots to explore while paddling downstream.
There are several pre-planned routes to choose from starting at 18km over 4-6 hours and going up to longer jaunts spread over two days, but you are free to mix and match your itinerary. If canoeing doesn't take your fancy, there are also stand-up paddleboards available to hire.
6. Visit CĒSIS CASTLE & Museum
The sprawling Cēsis Castle complex is actually made up of two castles: the dark-stone ramparts and towers of the restored medieval castle, and the elegant white-walled and terracotta-roofed 18th-century manor house.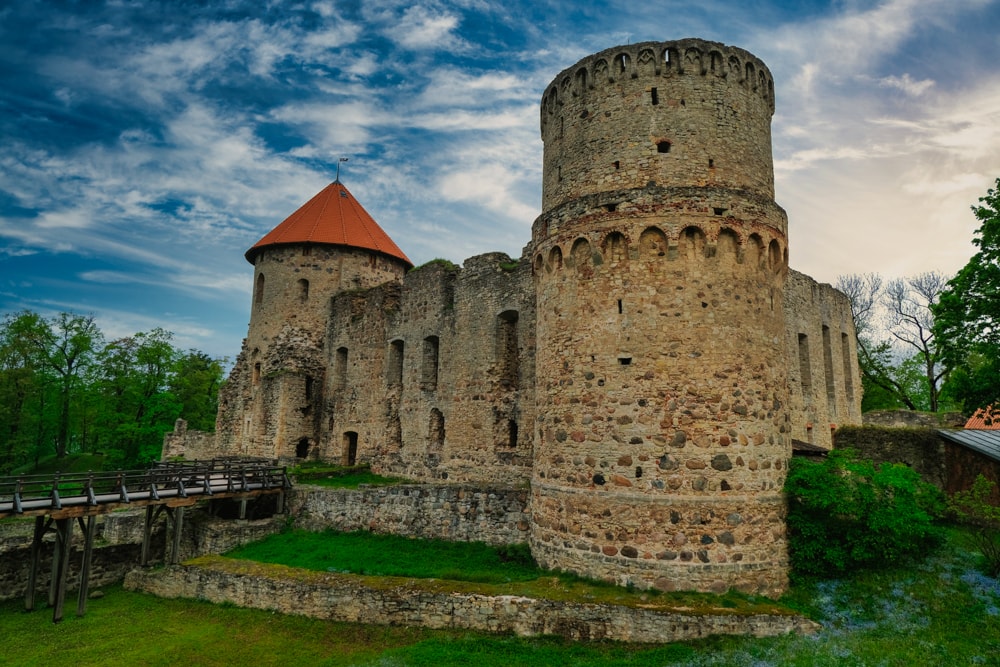 Founded by Livonian knights in 1214, the original castle was sacked by Russian tsar Ivan the Terrible in 1577 before being frequently restored throughout the centuries. There are several halls, dungeons and towers to explore including one that requires visitors to collect their own candlelit lanterns in order to navigate the dark and eerie passageways.
The 'new' castle houses a collection of galleries and exhibits along with a series of restored and reconstructed rooms to explore.
7. Go Ziplining
The zipline (zērglis) in Sigulda is the only aerial cableway in the Baltics and can reach speeds of up to 60km per hour. Unlike in the bungee jump, passengers will just about have time to enjoy a bird's-eye view of the Gauja Valley.
The zipline is strung 55m above the river and valley, and runs parallel to the Sigulda cable car (see below). The zipline runs from May to August and has single, tandem and child flights as well as video packages.
8. Explore ancient caves
There are several sandstone caves containing inscriptions and engravings scattered around the cliffs of the Gauja Valley. Gutman's Cave (Gūtmaņa ala), located to the north of the valley near Sigulda, is the largest and highest such cave in the Baltics and is steeped in myth.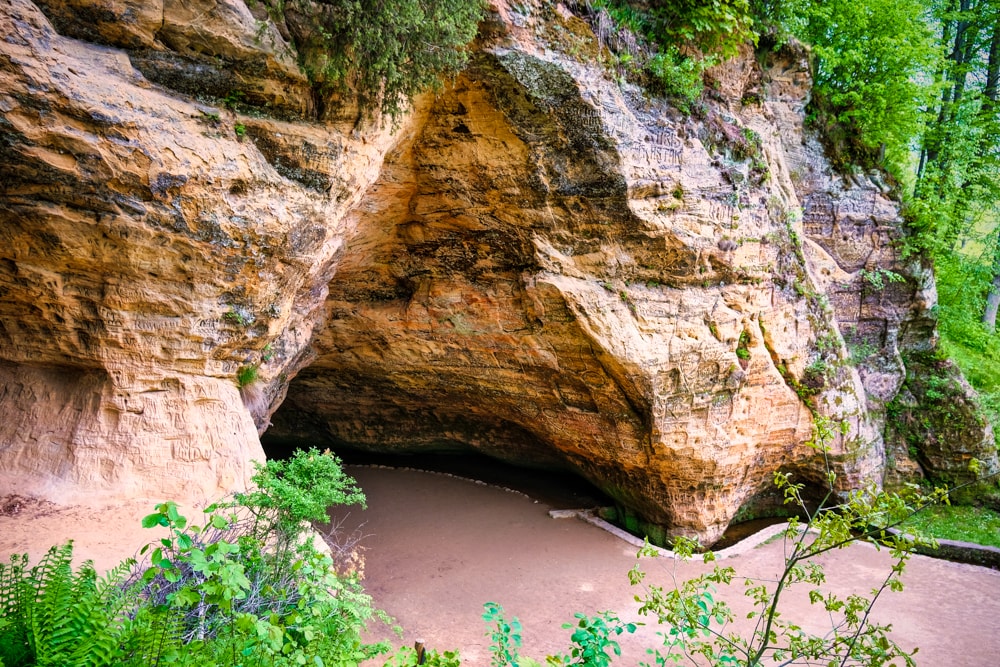 One legend has it that the cave was home to a medicine man who used the cave's springwater to heal local villagers. Hence, the cave became known as 'guter mann' or 'good man'. Another fascinating spot is Lielā Ellīte (Little Hell), a 7,000-year-old cave system known for its massive arches formed over millennia.
9. Go bobsleighing
The Sigulda Bobsleigh and Luge Track is where the Olympic-medal-winning Latvian national team train, but the course is also open to the public. The international class 1,200m track drops nearly 112m over the course of its 16 bends.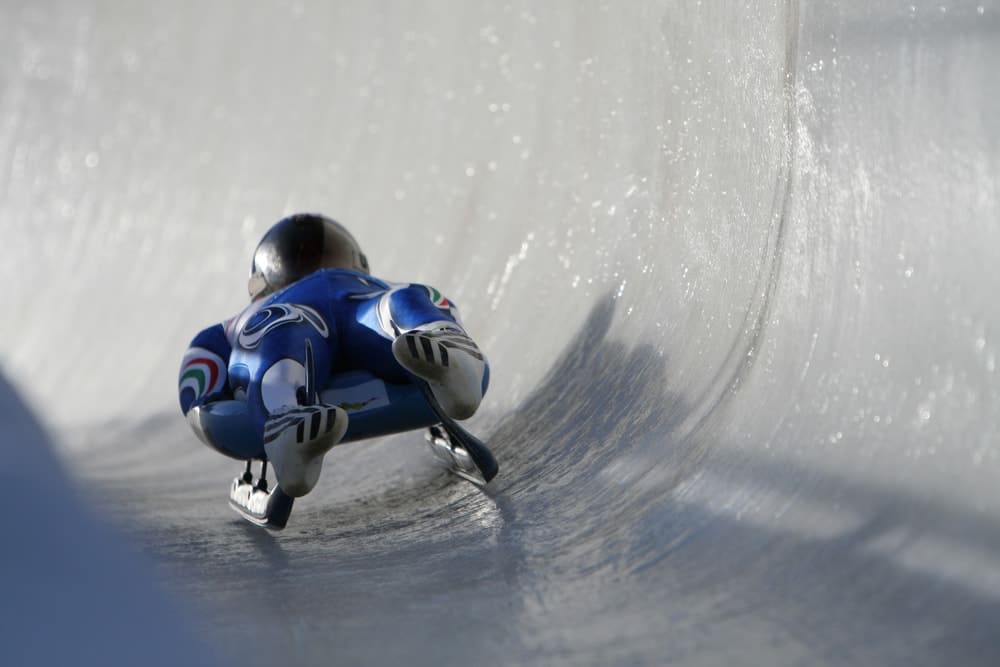 The most daring can try out the bobsleigh, where speeds reach 120km per hour and participants experience up to 4G during the twists and turns of the 60-second course.
For something a bit gentler, there is a 'soft bob' option which is essentially a cushioned child's play area on ice and much less body-jarring.
10. Take the Sigulda cable car
If bungy jumping, bobsleighing or zip lining doesn't take your fancy, then the more sedate Sigulda cable car is an option. Running for just over 1km, the cable car connects the two banks of the Gauja River.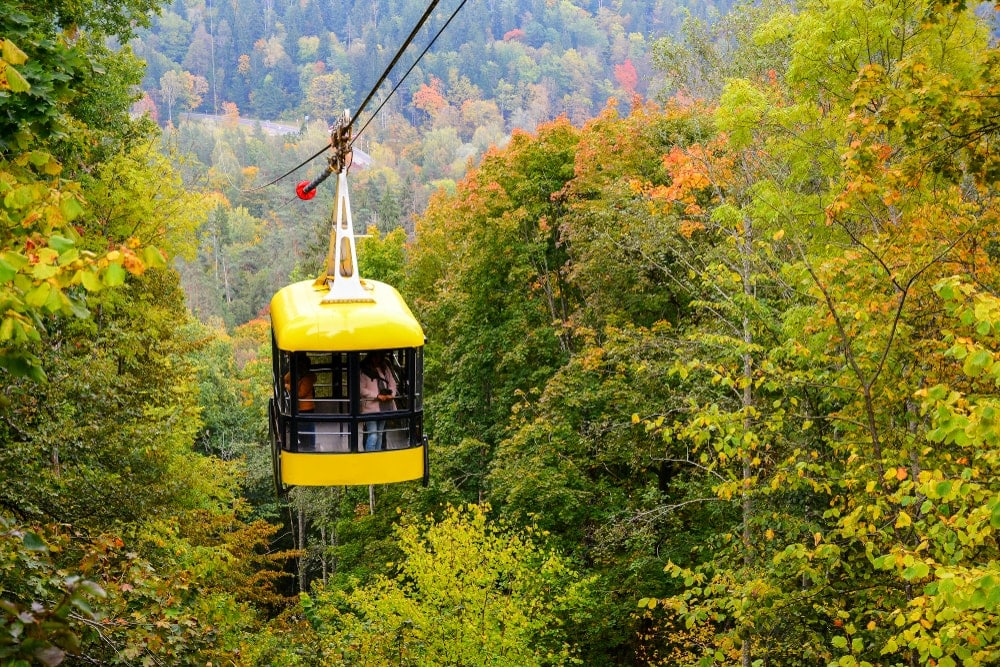 En route, passengers will enjoy panoramic views of the 19th-century Gauja Railway Bridge, the three medieval castles of Sigulda, Turaida and Krimulda, the Bobsleigh course and, of course, the Gauja River and valley.
11. TREK THE FOREST TRAIL
The Baltic Forest Trail is a 2,141km long-distance trail traversing the most heavily forested areas of Lithuania, Latvia and Estonia. The route is an extension of the 2,560km E11 European long-distance footpath running from The Hague in the Netherlands to the Polish-Lithuanian border.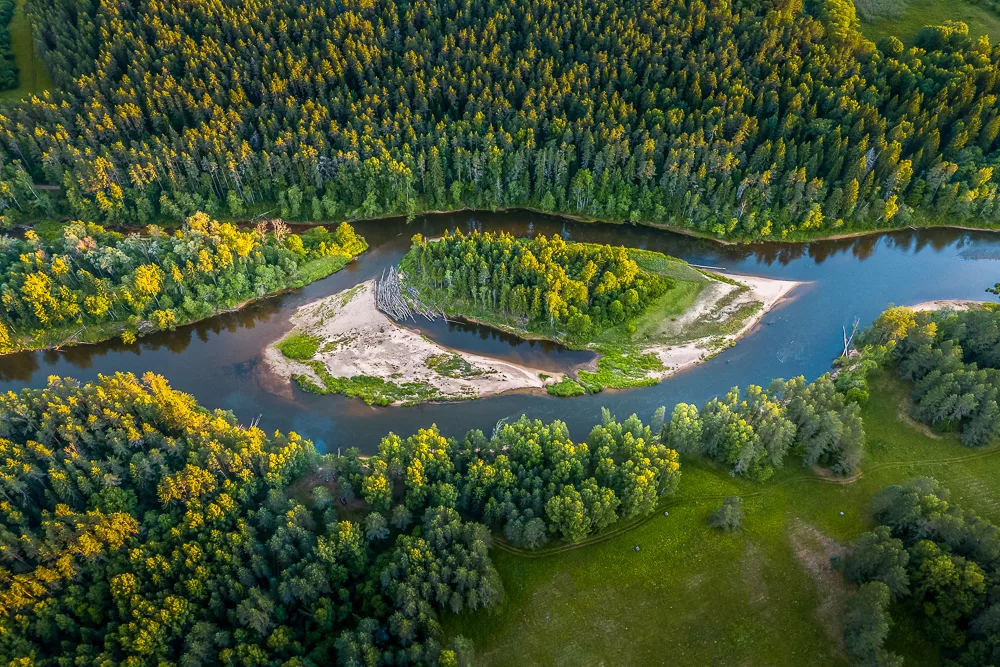 100km of the Latvian portion of the trail, covering five sections, pass through Gauja National Park mostly following the Gauja River. The trail enters the park around Rāmkalni and works its way northeast passing through Sigulda, Līgatne, Cēsis and Caunītes on its way to Valmiera.
Gauja National Park: the essentials
What: Exploring the best things to do in Gauja National Park, Latvia.
When: While Latvia is a year-round outdoor destination, the best time to visit Gauja National Park for outdoor activities is between April and September. From mid-September, temperatures drop rapidly with the first snowfall as early as mid-November.
Where: I split my time in Gauja between two hotels. Zeit, located in the tiny village of Līgatne around 20 minutes from Sigulda, has a range of accommodation to suit most needs, from hostel-style rooms to small apartments. The modern and chic hotel has an on-site café, bar, lounge, garden, shared kitchen and children's playground.
Cute and clean Vanadziņa Māja is within walking distance to Cēsis Castle and all the major shops and restaurants in town. Downstairs is a popular restaurant, bar and small beer garden.
How: All of the above activities can be arranged through the national park's website, EnterGauja. Once on the ground, the app is great for locating yourself and finding information as well as nearby points of interest, routes, activities and other services. Sigulda Adventures can organise canoeing, bike hire, ziplining and bungy jumping among other activities.
Sigulda, Cēsis and Valmiera can all be reached by bus from Riga. There are also numerous bus services running between Gauja's major towns and sites. Schedules can be found at www.1188.lv.
I explored Gauja by hire car from Sixt at Riga Airport after flying to Riga International (RIX) from London. Book through skyscanner.net for the best prices.
I continued my journey from Latvia by train with an Interrail Global Pass. After meeting Kia in Warsaw, Poland, we went on to cover over 3,000km by rail, visiting seven countries en route to San Marino. Established in 1972, Interrail just celebrated its 50th anniversary and recently launched several initiatives including its Mobile Pass and Rail Planner app, both of which made travelling easier.
Global passes start from €503, include one month of unlimited train travel across 33 European countries and are valid for 11 months from the date of issue. Some reservation fees are charged by the national railway companies. It's recommended to book seat reservations at least 4-6 weeks in advance. Learn more about Interrail mobile passes.
---
Enjoyed this post? pin it for later…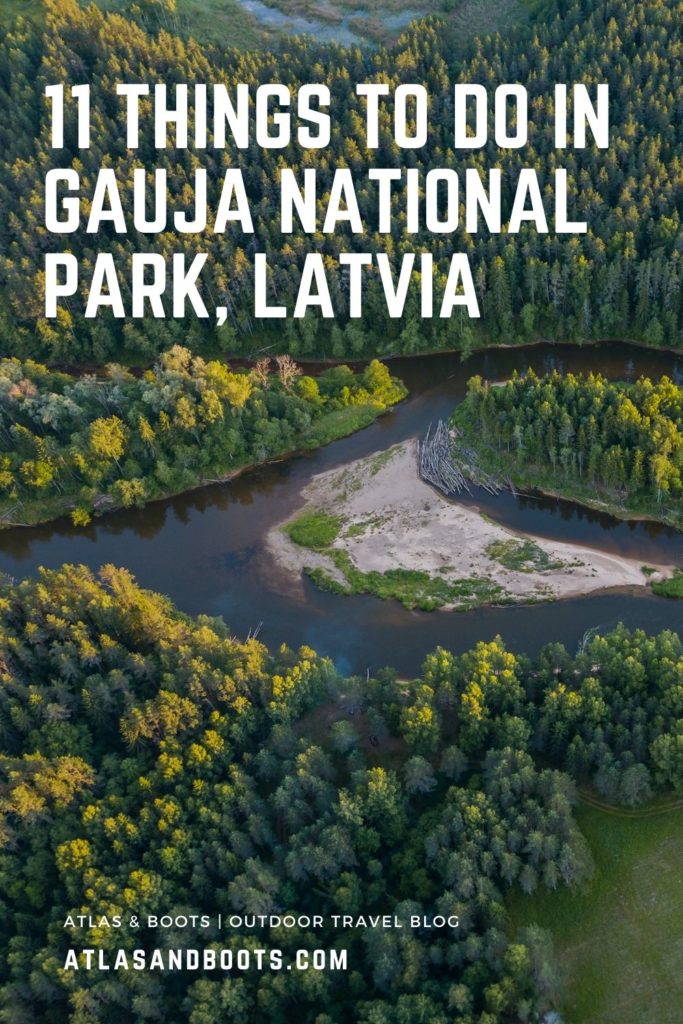 ---
[flexi-common-toolbar] [flexi-form class="flexi_form_style" title="Submit to Flexi" name="my_form" ajax="true"][flexi-form-tag type="post_title" class="fl-input" title="Title" value="" required="true"][flexi-form-tag type="category" title="Select category"][flexi-form-tag type="tag" title="Insert tag"][flexi-form-tag type="article" class="fl-textarea" title="Description" ][flexi-form-tag type="file" title="Select file" required="true"][flexi-form-tag type="submit" name="submit" value="Submit Now"] [/flexi-form]