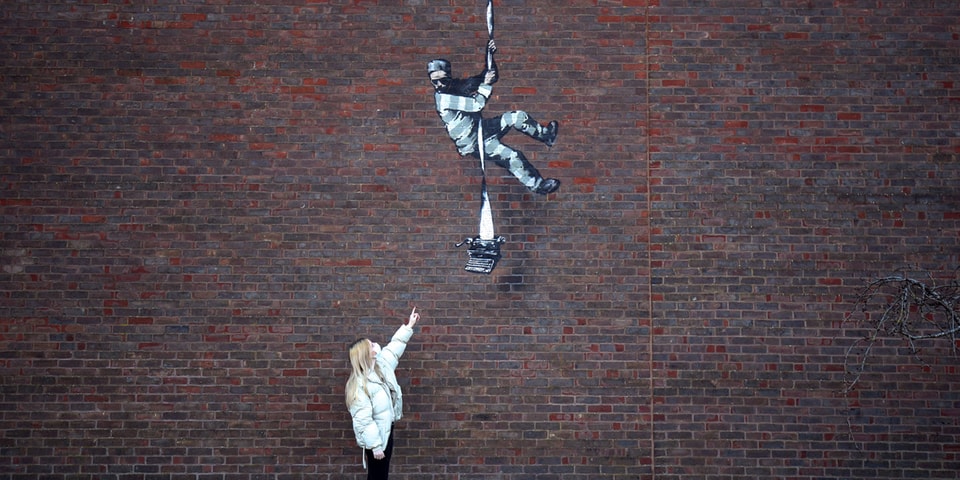 The Reading prison that Oscar Wilde was once jailed in may be turned into an art center, thanks in part to a pledged donation by Banksy.
Earlier in the year, the elusive street artist stenciled a prisoner who escaped through sheets that were symbolically weighed down by a typewriter. The sale of the work is estimated to garner around £10m GBP / $13.3m USD and would be donated to support the Reading Borough Council's efforts to buy the building, which has since become an LGBT heritage site.
Revered as one greatest writers in the history of English literature, Wilde was imprisoned at Reading Gaol from 1895 to 1897, on charges of "gross indecency" when it was discovered that he was having an affair with Lord Alred Douglas. In a statement first publisehed by the BBC, Banksy believes "converting the place that destroyed him into a refuge for art feels so perfect we have to do it."
Reading Gaol has been on the market since 2013, when the Ministry of Justice vacated the building. The site has also attracted a number of undisclosed bidders who would look to turn it into an apartment complex. Members of the artistic community, including Judi Dench and Kate Winslet, have publicly come out to support efforts of converting the site into an artistic center.
Only preliminary talks have occurred between Banksy and Reading Borough Council, however, both sides are hopeful that the proposal will happen as planned.
In other art news, Chrome Hearts debuts hand-carved basketball hoop at Art Base.
Reading Gaol
Forbury Rd,
Reading RG1 3HY,
United Kingdom