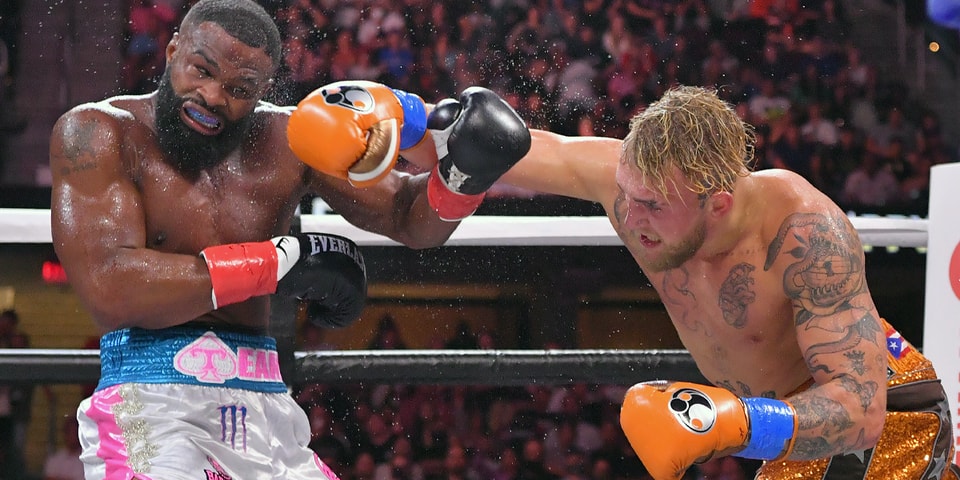 The highly hyped fight between former UFC welterweight champion Tyron Woodley and ex-Youtuber Jake Paul finally occurred over the weekend and saw Paul defeat Woodley in a split decision after eight hard-fought rounds.
Woodley, who was evidently unhappy with the unanimous decision, called the judging "laughable" and demanded a rematch in the immediate post-interview. The ex-welterweight champion went as far as calling the decision "bullsh*t."
The win over Woodley puts Paul at 4-0, currently undefeated in his past four professional bouts. Prior to his match with Woodley, Paul made it a point to media that he was ready for the competition is taking a considerable step up to be able to get in the ring with Woodley. Going into the fight, Woodley had his loss by submission at the UFC 260 last March, his fourth consecutive defeat heading into free agency.
Paul has had a considerably successful and career so far, previously sending Nate Robinson into defeat and turning him into a meme last November. He also knockout former MMA fighter Ben Askren in the first round. The fight with Woodley garnered a lot of attention on Twitter after the fight and even solicited a response from LeBron James, Paul's childhood idol and fellow Cleveland native.
Take a look at the reactions below.
CLEVELAND IS JUMPING!! Should have flew back to the crib.

— LeBron James (@KingJames) August 30, 2021
FACTS!!!

— LeBron James (@KingJames) August 30, 2021
https://t.co/p62xlOg1D2 https://t.co/BkqHVBiupY

— Gervonta Davis (@Gervontaa) August 30, 2021
A mma fighter can't beat a YouTuber…damn

— Clarence Hill Jr (@clarencehilljr) August 30, 2021
As big brother just said, Jake finally faced adversity, took a shot, shook it off, beat a five-time UFC champ, a genuine tough guy.

— Skip Bayless (@RealSkipBayless) August 30, 2021
Woodley was way too conservative early, he should have taken more out of Paul in the early rounds. Jake Paul was very impressive tonight, it's no small thing to win that fight. He's legit.

— Joy Taylor (@JoyTaylorTalks) August 30, 2021
Hell yes. It's obvious that Woodley cannot box but this fight should remind everyone what a joke @jakepaul is. Any real boxer would end him.

— Gerald Carroll (@Onlythetruth427) August 30, 2021
Jake has to fight a legit WBC WBA IBF fighter with at least 12 wins next. Someone under 30 years old.

— BEN BALLER™ (@BENBALLER) August 30, 2021
Tommy Fury would wipe the floor with Paul, or any professional boxer tbf, he got hurt from about 6 or 7 punches that landed in the whole 8 rounds

— Zaccyy (@lions1874) August 30, 2021
My grandpa had Muhammad Ali.

My dad had Mike Tyson.

I have Jake Paul.

— bunt (@trvorXX) August 30, 2021
I don't know why Tyron wouldn't go harder in the last round especially. Unless….you know ? fix?

— MichaelRapaport (@MichaelRapaport) August 30, 2021
Jake Paul is changing prizefighting and creating combat sports fans. the crowd tonight was young and excited, especially for boxing & even for MMA & very diverse. these are all good things. Paul is creating new opportunities for fighters, not taking anything away from anyone

— E. Casey Leydon (@ekc) August 30, 2021
men lie.. women lie.. numbers don't.. pic.twitter.com/IGShs02IkQ

— Jake Paul (@jakepaul) August 30, 2021
The Rock posted me on his Instagram ?

I can retire now

— Jake Paul (@jakepaul) August 30, 2021
Updated status:

Retired boxer

— Jake Paul (@jakepaul) August 30, 2021
In case you missed it, "Sugar" Sean O'Malley and Sanabul reconnected for a Cotton Candy MMA glove release.