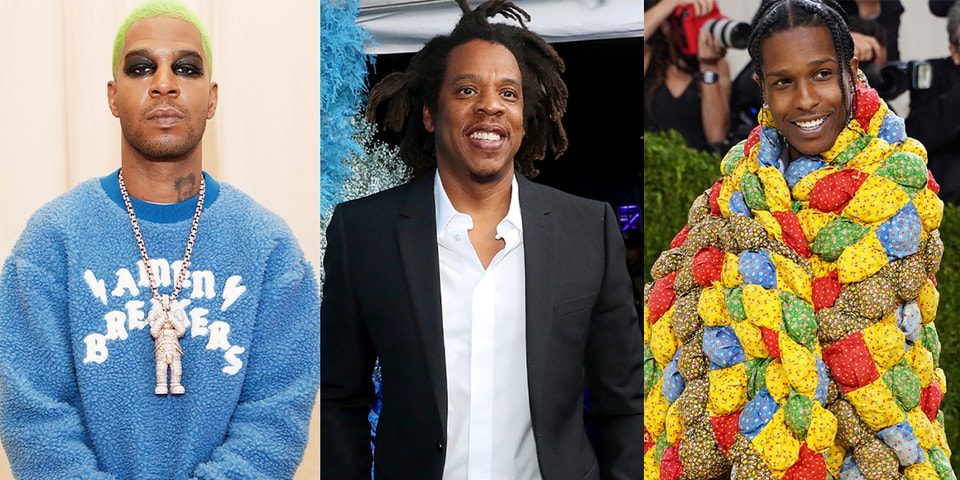 As the week in music comes to a close, HYPEBEAST has rounded up the 10 best projects for the latest installment of Best New Tracks.
This week's list is led by Kid Cudi and JAY-Z's collaborative The Harder They Fall soundtrack effort "Guns Go Bang," the arrival of A$AP Rocky's debut mixtape LIVE.LOVE.A$AP on streaming services and Lil Uzi Vert's Halloween-ready single "Demon High." Also joining this selection are projects from TDE staple REASON, Japanese Breakfast, IDK, Amaal, reggie, Mick Jenkins and Fly Anakin.
Kid Cudi x JAY-Z – "Guns Go Bang"
[embedded content]
Kid Cudi and JAY-Z joined forces for the collaborative effort "Guns Go Bang," which appears on the soundtrack of the upcoming Netflix Western The Harder They Fall starring Jonathan Majors and Idris Elba. The strings-supported cut provides an epic listen at what viewers can expect from the film, with Cudi and Hov sharing bars about revenge and violence the Western way.
Listen: Spotify | Apple Music
A$AP Rocky – LIVE.LOVE.A$AP
[embedded content]
A$AP Rocky is celebrating 10 years of his debut mixtape LIVE.LOVE.A$AP by finally putting the celebrated project on streaming services. Despite not including cuts like "Purple Swag: Chapter 2" with SpaceGhostPurrp and A$AP Nast, "Kissin' Pink" with A$AP Ferg and the closer "Out of This World," the new version does include the Kelvin Krash and Clams Casino-produced song "Sandman," which Rocky debuted at Yams Day 2021.
Listen: Spotify | Apple Music
Mick Jenkins – Elephant in the Room
[embedded content]
Mick Jenkins has officially delivered his fourth studio album, Elephant in the Room. His first body of work since 2020's The Circus, the 12-track LP is the Chicago-raised artist's way of addressing the "unspoken personal and general truths" surrounding him and how it has shaped his life. "From my estranged relationship with my father to friendships that don't feel the same anymore to the even more basic idea of acknowledging that I need help. We become accustomed to allowing none progressive qualities and truths to occupy so much space in our lives simply by ignoring them, or ignoring them despite them being right in our faces! I intend to face several of those dormant issues/topics head-ons in the hopes that others can, at the very least, identify with the spaces I've grown from," he shared in a statement.
Listen: Spotify | Apple Music
Lil Uzi Vert – "Demon High"
[embedded content]
Lil Uzi Vert is evidently ready for Halloween with his latest single, "Demon High." The Prologic and Rex Kudo-produced cut arrives just in time for spooky season and hears Uzi fuse together styles of rap, trap and indie pop while touching on more emotional lyricism.
REASON – No More, No Less: Demo 1
[embedded content]
REASON has briefly returned to deliver No More, No Less: Demo 1. The brief three-minute project features guest appearances from fellow TDE staple Isaiah Rashad, Zacari, Wale, Adé, Doe Boy and Griselda titan Benny The Butcher, and marks the first body of work from REASON since New Beginnings. "A small collection of thoughts and moments that I've been asked for repeatedly. Something I wanted to give to y'all in the meantime. Love y'all, and see you soon!" he promised fans on Twitter.
Listen: Spotify | Apple Music
reggie – "Traffic"
[embedded content]
New Gen: Spring 2021 contender reggie is continuing his slew of releases with "Traffic," his third single of the year following "Avalanche" with Smino and "Ain't Gon Stop Me." Produced by Groove, Naz and Phoelix, the fresh offering is the Houston-born's own fusion of hip-hop, soul and R&B.
Listen: Spotify | Apple Music
Japanese Breakfast – Live At Electric Lady
[embedded content]
Singer/songwriter/author Michelle Zauner, best known as Japanese Breakfast, dropped off a series of newly recorded live tracks via the Spotify exclusive Live At Electric Lady. The eight-track project features live performances of Jubilee cuts like "Savage Good Boy" and a cover of Weezer's "Say It Ain't So," the latter of which was recorded at Electric Lady Studios. "Recording at Electric Lady was truly the perfect experience. The longer I've worked as a recording artist, the more I've realized it's the simple, stripped down songs that are the hardest to get right. Having the opportunity to revisit the core catalog of my songwriting in a room with so much history, surrounded by engineers and gear of the highest caliber, it was just a dream come true," Zauner said in a statement. She added, "I played a very sloppy basement cover of 'Say It Ain't So' once with my band in college, so it was fun to revisit it from the opposite angle, stripped down with a string quartet. Craig Hendrix did the arrangement and Quartet 121 performed the hell out of it."
Listen: Spotify
IDK – USEE4YOURSELF (Deluxe)
[embedded content]
IDK has shared the deluxe version of July 2021 record, USEE4YOURSELF. Featuring an additional nine tracks, the new rendition features a cut with Trippie Redd entitled "Dinner Date," new and extended versions of "Temporary Love," "Puerto Rico," "2 Cents" and "Dogs Don't Lie."
Listen: Spotify | Apple Music
Fly Anakin – "Sean Price"
[embedded content]
Fly Anakin is paying homage to Boot Camp Clik member Sean Price with his new, Evidence-produced single. The fresh track also arrives with an accompanying music video directed by No Fun and was shot in Brooklyn to pay respects to Price. "Sean Price inspired me to stand on what I believe in and say whatever I feel no matter what type of beat it is," Fly Anakin said in a statement. "His influence put me in the driver's seat, I grew wings and shit."
Listen: Spotify | Apple Music
Amaal – Milly
[embedded content]
Somali-Canadian singer-songwriter Amaal has released her first EP in two years, Milly. The album title is a nickname the artist adopted in order to remain anonymous, and as she set off on an exploration outside of her community, she was able to find self-acceptance and "replace the fear of judgment and shame from her strict upbringing."
Listen: Spotify | Apple Music