Our simple guide on how to choose hiking boots will ensure you enjoy every step of the trail. Here's how to pick the perfect pair
Footwear is a hiker's most critical piece of gear. Inappropriate or poorly fitted boots or shoes can spoil a day on the trail and have you gritting your teeth with every step.
But with a dizzying array of choices, from lightweight trail running shoes to double-layered plastic mountaineering boots and everything in between, knowing where to start can be bewildering.
how to choose hiking boots
To make the decision easier, we've put together a beginners guide on how to choose hiking boots.
Know your requirements
Before you consider the following points, first give some thought to when and where you're going to be hiking and what the conditions and terrain will be like. If you're only planning some dry weather day hikes then you can probably opt for some lightweight low-cut hiking shoes.
However, if you're planning some multiday treks, then you'll likely encounter a wider range of trail and weather conditions and will want to consider some stronger mid-cut shoes or boots.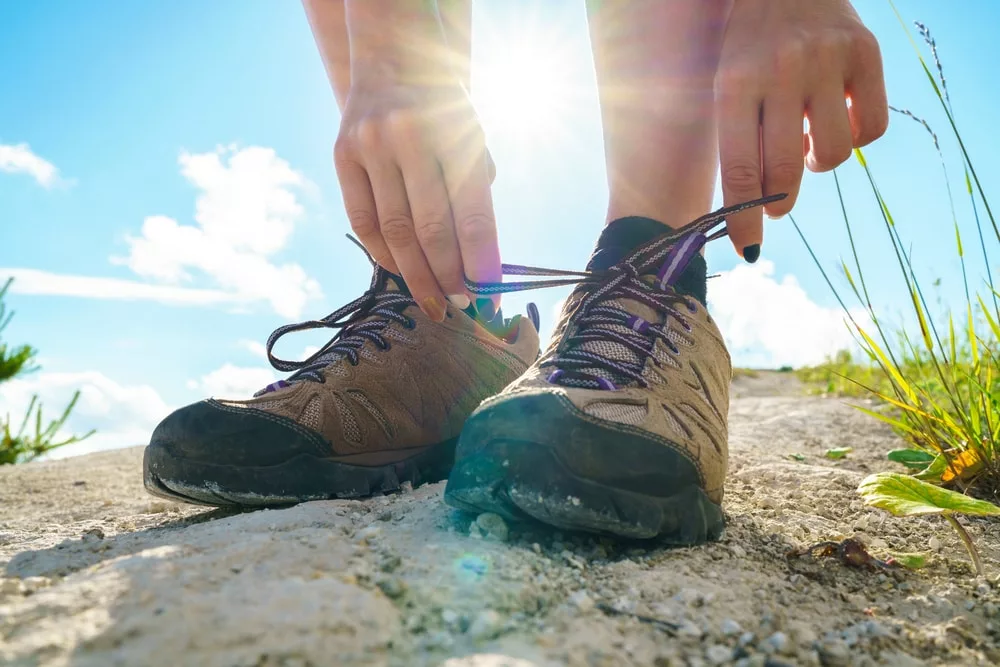 Further along the spectrum, something like a high-altitude trek such as the Everest base camp or even an Aconcagua climb, then you're better off with a waterproof leather boot or even a plastic mountaineering boot.
You are more likely to make a more suitable choice if you do some research into the terrain and conditions you will encounter on the trail.
Ankle support
You have a choice between low-, mid- and high-cut ankle support. The higher the support the more roll-resistance you'll have for your ankles but it comes with a trade-off: less freedom of movement, heavier, more rigid material and potentially, less comfortable.
Low-cut hiking shoes (sometimes called approach shoes) allow your ankles to move more freely, but are less rigid and offer less support. Low-cut shoes have more flexible midsoles, are lighter and are good for day hiking when you're not carrying a heavy backpack. However, some long-distance trekkers, especially ultralight backpackers, prefer low-cut or even trail-running shoes. Lightweight shoes help to reduce fatigue but are not as durable.
Mid-cut shoes are exactly as they sound and fall somewhere between the two, usually coming up to your ankle bone. Mid-cut shoes might be ideal for longer day hikes, across more challenging terrain, or shorter backpacking trips with lighter loads. They tend to flex more easily than high-cut boots but obviously offer less support.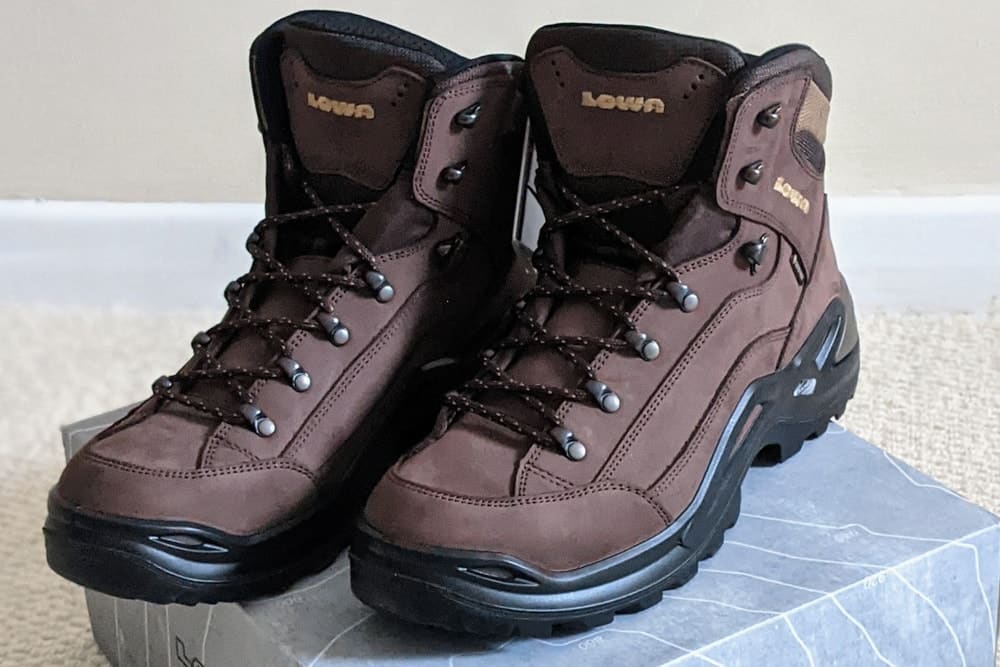 High-cut boots will support your ankles and are the safest form of hiking footwear but are heavier and less flexible. They are designed for hikers carrying heavier loads on multiday trips deep into the backcountry. They will be more rigid, sturdy and more stable on uneven or technical terrain. They are also more durable so will last longer. However, they may make your feet hotter, sweatier and more fatigued over longer distances.
Fit
The most important thing is that hiking footwear fits well – it's the difference between blisters and bliss on the trail. Hiking footwear should fit snugly everywhere, but should not be tight anywhere. Additionally, there should be enough room to wiggle your toes.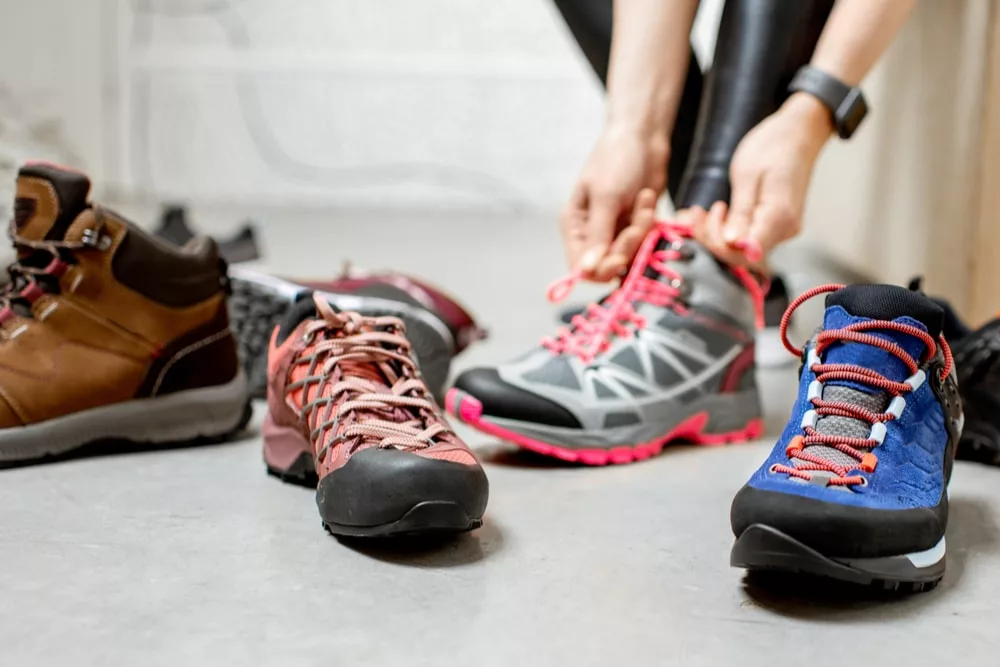 When you're choosing your hiking boots, try them on at the end of the day (as feet normally swell during the day and will be at their largest) with the socks you plan to wear. Don't be surprised if the most comfortable fit is a bit bigger than what you would normally wear. My hiking boots are half a size bigger than my normal shoes.
Finally, when trying on your hiking boots, take a good walk around the store and make sure you can bend your toes. Walk up and downstairs and ideally a sloped surface too. Many outdoor stores have artificial trails or even treadmills for customers to test footwear on.
Waterproof
As I live in the UK, where rain is a possibility throughout the year, I always opt for leather hiking boots. Leather provides the highest level of water resistance and durability. However, it is not as light or breathable as synthetic boots and requires longer to break in.
My latest boots are a pair of Lowa Renegade, a popular choice as they're relatively lightweight and flexible leather boots that are good in British hillwalking conditions. I also have a pair of approach shoes which I use for day hikes when I know the weather's going to be dry.
Flexibility
Unless you're regularly going on multiday treks, then you probably want something reasonably pliable. When Kia bought her first pair of hiking boots, she was initially going to buy something as heavy-duty as mine. She tried on some stiff leather boots at Cotswolds, insisting that they were comfortable.
Luckily, Cotswolds is full of experts, one of which promptly pointed out that the boots were too stiff for her petite feet. He prodded the tip, showing her that she could barely bend her toes. After a chat about her intended use, he suggested a more lightweight pair of Keen Terradora boots instead, which since proved ideal.
Choose THE RIGHT SOCKS
Finally, good hiking boots can be let down by bad socks. Thin or trainer socks will likely rub, causing blisters and other discomforts.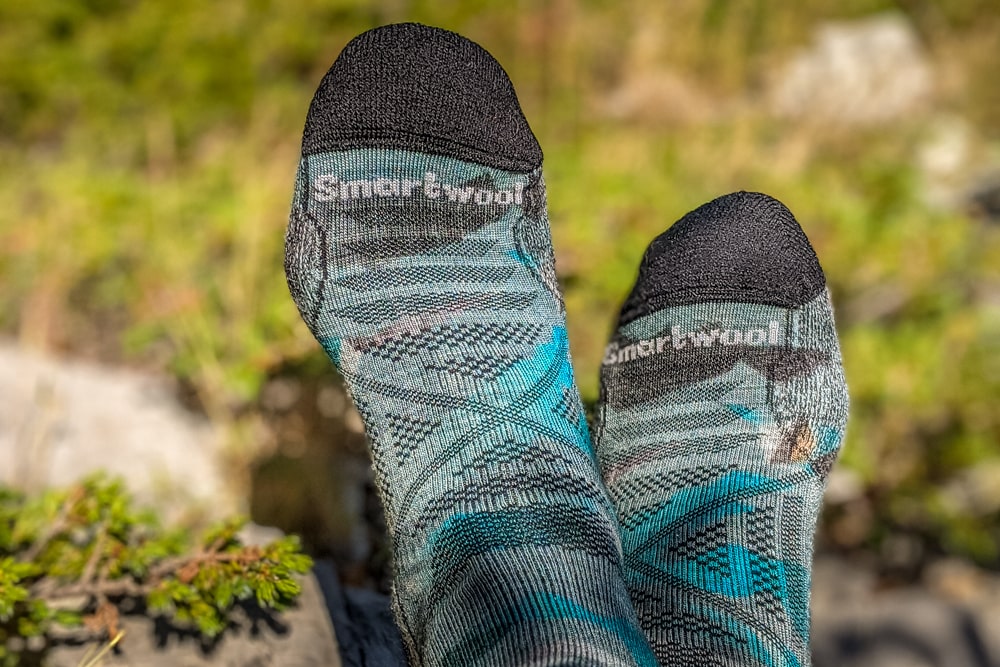 It's generally best to avoid cotton as it holds moisture next to your skin, which combined with friction causes blisters. Instead, opt for moisture-wicking fabric like polyester or wool socks such as Smartwool.
---
Enjoyed this post? pin it for later…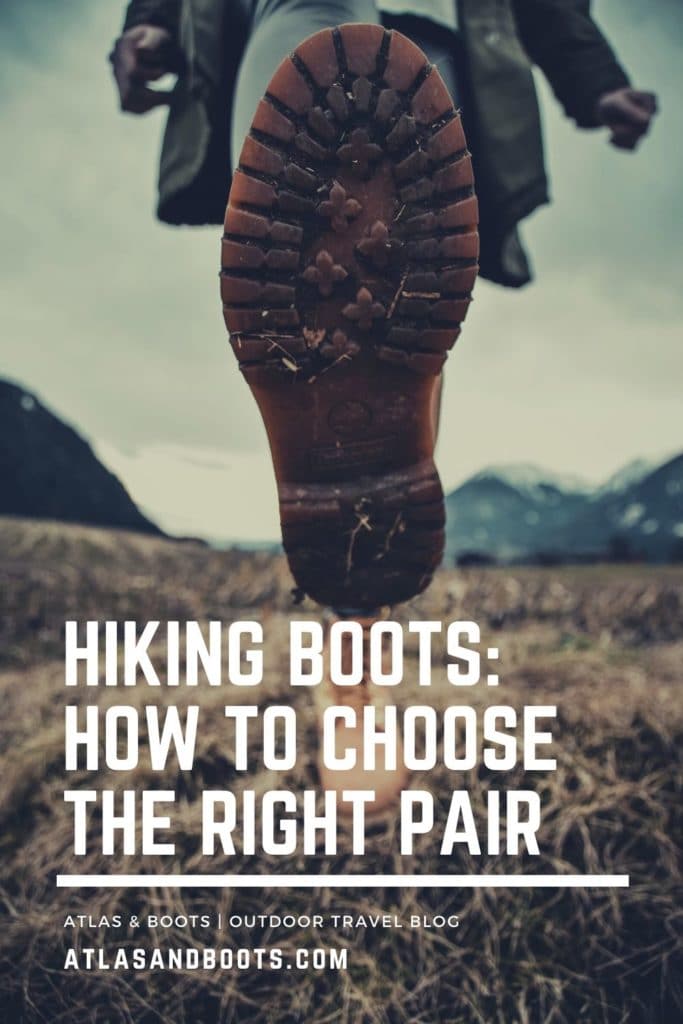 Lead image: Atlas & Boots
[flexi-common-toolbar] [flexi-form class="flexi_form_style" title="Submit to Flexi" name="my_form" ajax="true"][flexi-form-tag type="post_title" class="fl-input" title="Title" value="" required="true"][flexi-form-tag type="category" title="Select category"][flexi-form-tag type="tag" title="Insert tag"][flexi-form-tag type="article" class="fl-textarea" title="Description" ][flexi-form-tag type="file" title="Select file" required="true"][flexi-form-tag type="submit" name="submit" value="Submit Now"] [/flexi-form]