From the world's oldest winery to medieval monasteries, we share the best day trips from Yerevan, Armenia's Pink City
After trekking the Highlander Svaneti and exploring Kazbegi in Georgia, I had a few days before my flight home so I hopped across the border to Yerevan, the capital of Armenia.
Known as the Pink City for the volcanic rock used in its state buildings, Yerevan is a city with many faces. With evidence of settlement dating back to the 8th century BC, Yerevan is one of the world's oldest continually inhabited cities. While most of its ancient structures have now been removed, built over by Soviet-era tower blocks and monuments, the city still retains several alluring features – not least its position in the shadow of the fabled Mount Ararat.
Today, following Armenian independence in 1991, the city is modernising at pace, shaking off its Soviet past as contemporary art galleries, chic wine bars and sophisticated restaurants pop up along its tree-lined boulevards.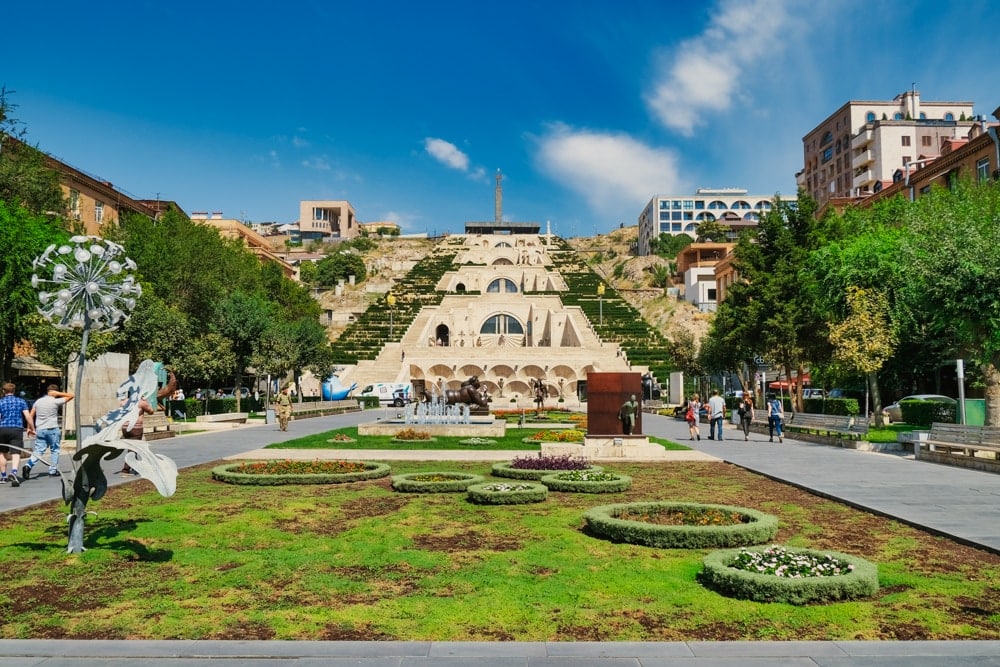 I spent a couple of days exploring the city on foot, visiting sites such as the stone steps and Arts Cafesjian Center at the Cascade Complex, Republic Square and the Armenian History Museum, and the haunting Armenian Genocide Memorial. I then used my remaining time to take some day trips from Yerevan. Fortunately, in a country the size of Armenia, it's possible to squeeze a lot in and visit the major sites as well as a few lessser-known spots from a base in Yerevan.
Best day trips from Yerevan
From the ancient Areni Cave to the medieval monasteries of Geghard and Noravank, these are the best day trips from Yerevan.
1. Geghard Monastery
Distance from Yerevan: 37km
Tour duration: 5-6 hours
Price: $35 USD (with Garni Temple and Gorge)
Book the tour: viator.com
Geghardavank (Monastery of the Spear) is named after the spear that allegedly pierced Jesus Christ's side at his crucifixion. The relic was kept in the monastery for 500 years after supposedly being carried there by the Apostle Thaddeus (Jude) in the 1st century AD.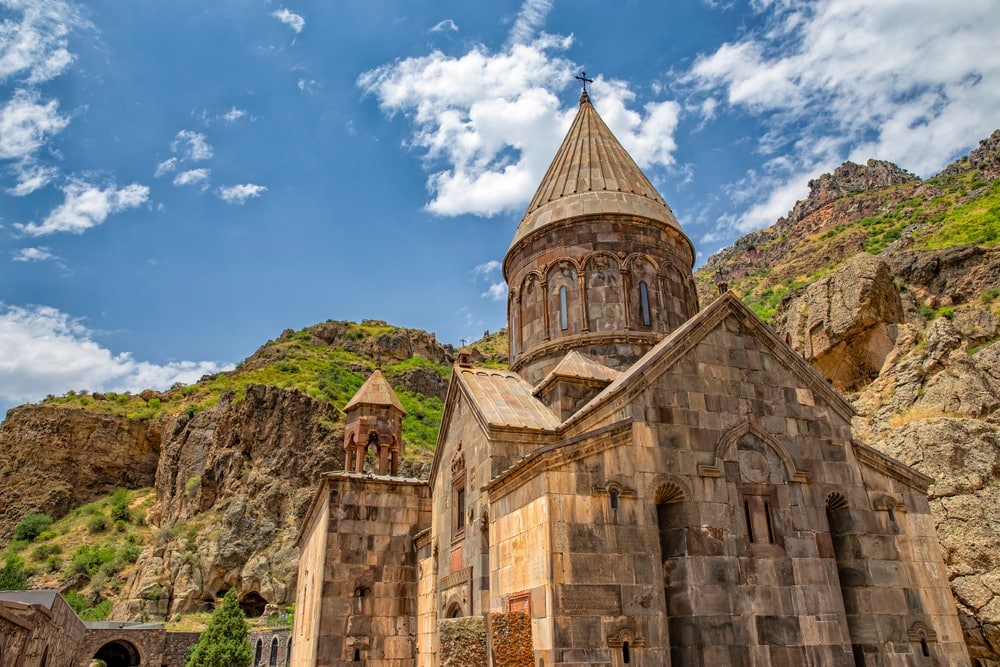 The UNESCO-listed monastery is carved out of a cliff in the Upper Azat Valley just over an hour's drive from Yerevan. With some of its structures dating from as early as the 4th century, the monastery was once known as Ayrivank (Monastery in the Cave) due to its rock-cut construction.
I was fortunate to visit on a Sunday when a choir sings following the morning service in the 12th-century Surp Astvatsatsin (Holy Mother of God Church). Here, a tiny ensemble gathered in the cool chamber under a stream of light entering through the rock-cut skylight. It was outrageously atmospheric, bordering on magical. If you have time for one day trip, make it to Geghard.
2. Garni Temple and Gorge
Distance from Yerevan: 28km
Tour duration: 5-6 hours
Price: $35 USD (with Geghard Monastery)
Book the tour: viator.com
The striking Garni Temple is a classical Greco-Roman collonaded structure overlooking the Garni Gorge. In fact, the Parthenon-like construction is the only such building still standing in Armenia or indeed any country of the former USSR.
Dating from the 1st century AD, Garni was almost entirely destroyed by an earthquake in 1679 and lay in ruins for centuries until it was painstakingly rebuilt from 1969 to 1975. There are also some Roman-era bathhouses adjacent to the temple.
Below the temple, in the Garni Gorge, is the Symphony of Stones rock formation, known for its distinctive basalt columns. It is easily reached by a dusty track that descends from the temple.
3. Khor Virap
Distance from Yerevan: 45km
Tour duration: 8-9 hours
Price: $40 USD (with Noravank and Areni Cave)
Book the tour: viator.com
Located on a small hillock at the foot of the 5,137m (16,854ft) Mount Ararat – which is just over the border in Turkey – Khor Virap Monastery cuts a lonely figure on the exposed Ararat Plain. Founded in 642 AD, the complex has been periodically rebuilt and restored over the centuries.
Today, it is one of the most important pilgrimage sites in Armenia. Legend has it that Gregory the Illuminator was imprisoned in Khor Virap (meaning 'deep dungeon' in Armenian) for 13 years by the pagan King Tiridates III of Armenia. His crimes? Attempting to convert the locals to Christianity.
These days, pilgrims must descend a winding stairway, followed by a rickety ladder, down into a dark well to access the small chamber where Gregory was held. If you plan on doing the same, make sure you're wearing appropriate footwear!
4. Noravank
Distance from Yerevan: 120km
Tour duration: 8-9 hours (with Khor Virap and Areni Cave)
Price: $40 USD
Book the tour: viator.com
Noravank, meaning New Monastery, was founded in 1205 and enjoys a spectacular setting in a narrow gorge banked by arresting brick-red cliffs. The scene is somewhat reminiscent of Jordan's ancient city of Petra, albeit on a much smaller scale.
The 14th-century Surb Astvatsatsin (Holy Mother of God) Church is Noravank's most well-known structure, but the complex also includes the smaller Surb Karapet (St. John the Baptist) Church and Surb Grigor (Saint Gregory the Illuminator) Chapel – both 13th-century.
As the site is relatively small, visits to Novarank can easily be included on a day tour to Khor Virap and Areni Cave and the nearby wineries. If possible, try to time your visit with sunset when the scenery really comes alive and the light brings a radiant sheen to the rosy-gold stone of the churches.
5. Areni Cave
Distance from Yerevan: 111km
Tour duration: 8-9 hours (with Khor Virap and Noravank)
Price: $40 USD
Book the tour: viator.com
It's safe to say that Areni Cave – officially known as the Areni-1 Cave Complex – conceals some serious history within its ancient caverns. In 2008, the world's oldest leather shoe – known as the Areni-1 Shoe – was discovered in one of its cavities. The well-preserved 5,500-year-old moccasin-style shoe was found stuffed with grass – probably used as an insulator or an early shoe tree.
Then in 2011, at the same site, the world's earliest-known winery was also unearthed. Among other articles, archaeologists exhumed a wine press for crushing grapes, fermentation and storage vessels, drinking cups and grapevines, skins and seeds dating back at least 6,100 years.
Today, the small network of tunnels and caverns is open to visitors who can wander the eerie chambers and see the ancient wine-making equipment still in place. Located just 10 minutes from Novarank, Areni Cave is often included on tours to the monastery and Khor Virap. Allow an hour to see everything.
Best day trips from Yerevan: the essentials
What: Exploring the best day trips from Yerevan, Armenia.
Where: In Yerevan, I stayed at the 4-star hotel Nacho Hotel. While perfectly serviceable, the hotel was a bit of a walk from the city centre and main sites and so I felt it was a little overpriced.
More central, mid-range options include the 4-star Republica Hotel and the 3-star Villa Delenda. A well-reviewed 5-star option is the Golden Palace Hotel, while at the other end of the spectrum, Highland Hostel was recommended to me by other travellers.
When: The best time to visit Armenia is in May, June or September. July and August are also good but can get extremely hot and are also the busiest months.
How: I took the overnight sleeper train from Tbilisi in Georgia to Yerevan. During the summer, there are daily trains in both directions. They depart from Tbilisi either at 20.20 or 22.45 depending on the day of the week and arrive in Yerevan either at 07.00 or 09.00 the following morning. In the other direction, trains either depart from Yerevan at 14.05 or 21.30 and arrive in Tbilisi at 00.11 or 07.35. During the winter, there is reduced service in both directions.
There are three classes available. I travelled second class on the way there and first on the return.
1st class: 2-berth cabin, snacks and water, from 165 GEL ($61 USD)
2nd class: 4-berth cabin with bunk beds, from 107 GEL ($40 USD)
3rd class: open carriage with bunk beds, from 82 GEL($30 USD)
You have to buy tickets in advance at either Tbilisi or Yerevan train stations and will need your passport. For the price, I definitely recommend trying to get a first-class ticket so it's worth buying tickets in as much advance as possible.
I flew to Tbilisi from London via Istanbul with Turkish Airlines. There are also options to fly directly to Yerevan from a number of destinations including Paris, Cologne, Athens, Moscow and several emirates in the UAE. Book flights via Skyscanner for the best prices.
---
Enjoyed this post? pin it for later…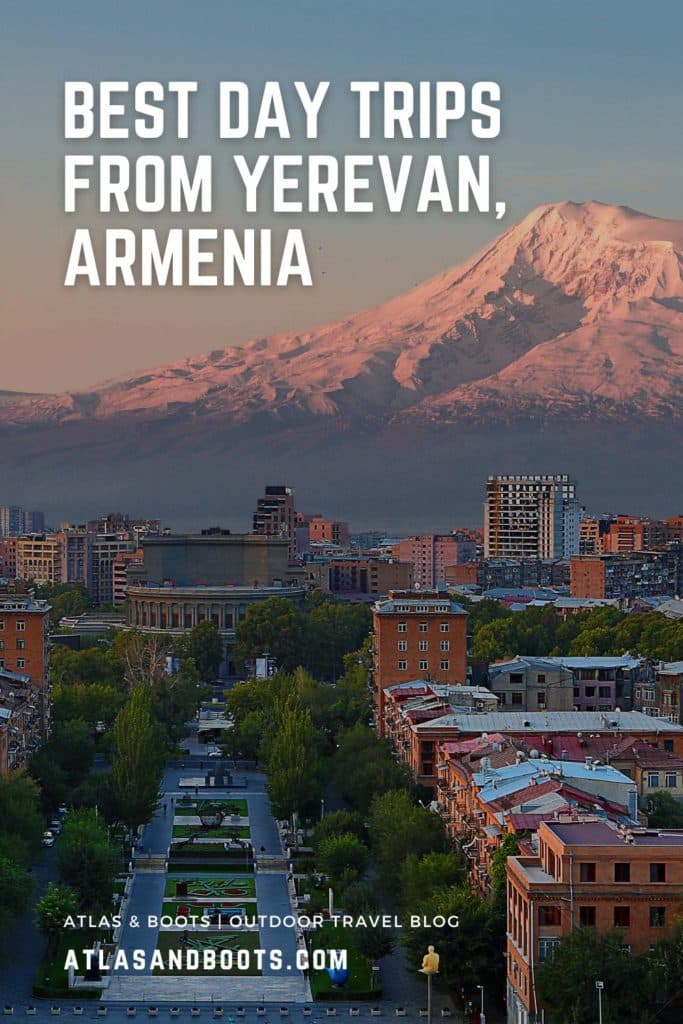 ---
[flexi-common-toolbar] [flexi-form class="flexi_form_style" title="Submit to Flexi" name="my_form" ajax="true"][flexi-form-tag type="post_title" class="fl-input" title="Title" value="" required="true"][flexi-form-tag type="category" title="Select category"][flexi-form-tag type="tag" title="Insert tag"][flexi-form-tag type="article" class="fl-textarea" title="Description" ][flexi-form-tag type="file" title="Select file" required="true"][flexi-form-tag type="submit" name="submit" value="Submit Now"] [/flexi-form]