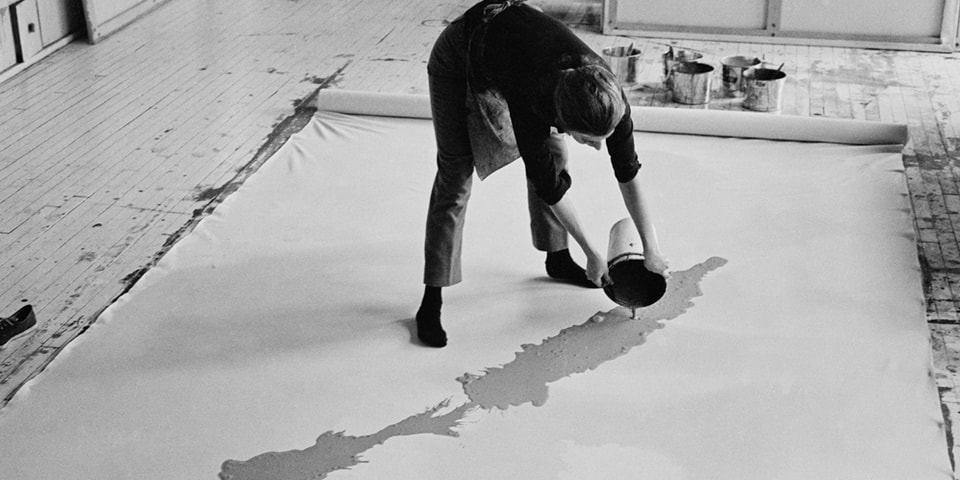 Helen Frankenthaler's soak-stained canvases were a turning point in the history of art. Vibrant and flowing, suggestive yet ambiguous — these paintings were instrumental in her shift from Abstract Expressionism to the Color Field paintings that brought her global recognition. As an ode to the artist, Gagosian is currently showcasing 13 large-scale paintings in an exhibition titled, "Imagining Landscapes: Paintings by Helen Frankenthaler."
The landscapes which are referenced in the title seem to shift with each painting — from the subtle to the explicit. The artist's first breakthrough painting, Mountain and Sea (1952), introduced her signature technique of soak-staining — a method of thinning the paint with turpentine. When applied to the canvas, the paint will soak into the fabric, becoming one with the work — as opposed to merely sitting on the surface.
"There are no rules," stated Frankenthaler in a past interview. "That is how art is born, how breakthroughs happen. Go against the rules or ignore the rules. That is what invention is about." "Imagining Landscapes: Paintings by Helen Frankenthaler" is on view at Gagosian's London location until September 18.
Elsewhere in art, Jean Jullien will unveil a new exhibition at Tokyo's Parco Museum later this month.
Gagosian
20 Grosvenor Hill
London w1k 3qd