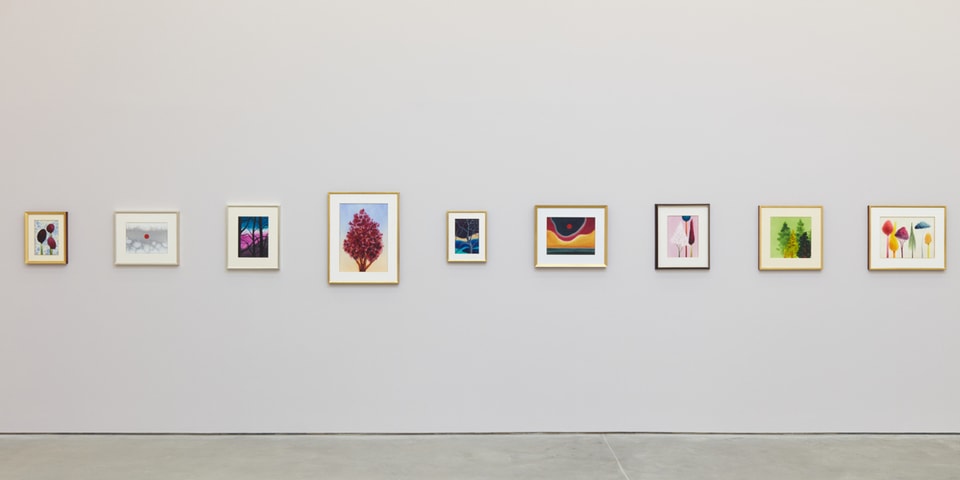 Contemporary art gallery, Karma, is showcasing a solo exhibition of watercolor paintings by Nicolas Party. Titled Watercolor, the exhibition features about 50 vibrant pieces that illustrate the prowess of the Lausanne-born figurative painter.
The paintings take on an elevated survey of plants and nature through the usage of highly-saturated colors, jewel-toned palettes and creative configurations. Emploring one's eyes to transverse the canvas, Party utilizes abstract visual effects, geometry, serene landscapes and more to create a romantic look at nature. Several pieces focus specifically on trees, which Party expresses as "nature's alphabets" and "infinite flexibility…which makes its execution endlessly playful," according to a release. The usage of trees offers a look at not only nature's fluidity but its power.
By playing with watercolor, Party is just as much the creator as he is the student due to the necessity of yielding to water's natural freedom. "Water creates natural movement that forms shapes on the paper," Party explains. "You have to let the fluid element of the paint do its part—the painting is moving and alive for several seconds." Therefore, the practice of watercolor entails both skill and spontaneity.
The Watercolor exhibition is currently on display at Karma's 22 East 2nd Street location in New York City through January 8, 2022.
In related news, Rachel Jones uses color to explore the boundaries of language.
Login